Today I am linking up with the lovely
Susannah
and Hayley on what it means to have a gentle and quiet spirit.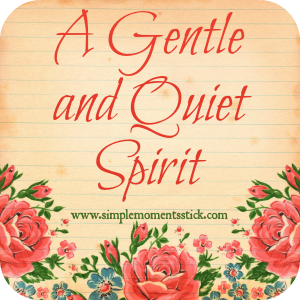 Do not let your adorning be external - the braiding of hair and the putting on of gold jewelry, or the clothing you wear - but let your adorning be the hidden person of the heart with the imperishable beauty of a gentle and quiet spirit, which in God's sight is very precious.
- 1 Peter 3:3-4 (esv)
As Christians, we are called to look beyond the physical and see ourselves (and others) as God sees us. God sees the inner workings of our hearts and finds beauty in a gentle and quiet spirit.
"For the Lord sees not as man sees: man looks on the outward appearance, but the Lord looks on the heart." - 1 Samuel 16:7 (esv).
Now I must admit - I have never been one to describe myself as "gentle" or "quiet." I am generally loud, very chatty and oftentimes don't know when to keep my mouth shut. I am an extrovert and typically like to think that I exude energy... but not gentleness or calmness. So I have struggled in the past with this particular passage of scripture. How can God give me this extroverted and loud personality, but then say that it is a "gentle and quiet spirit" that is precious in his eyes?
That's because a gentle and quiet spirit comes from THE gentle and quiet Spirit. The Holy Spirit. All those who have been saved by grace are filled with the Holy Spirit - the third member of the holy Trinity. I like to think of the Holy Spirit as a shy spirit... He works behind the scenes deep within our hearts, and is active in our hearts in ways that we may not necessarily even recognize ourselves. He is very powerful and strong, but oh so sweet in how He works in our lives.
And hope does not put us to shame, because God's love has been poured into our hearts through the Holy Spirit who has been given to us. - Romans 5:5 esv
The Holy Spirit is the epitome of gentleness in how He speaks to my heart. He can be oh so quiet in the little ways that He will convict me of certain behaviors or sin patterns. But through His gentle ways, He guides me as I strive to be more like Jesus. So when God looks at a person's heart and sees gentleness and quiet within, He is seeing the effects of the Holy Spirit at work within that person.
...for the Holy Spirit will teach you in that very hour what you ought to say. - Luke 12:12 esv
I can still be loud but also have a quiet (restful) spirit. I can still shout for joy but exude a gentleness to my nature. We all can. That's because underneath each of our individual and precious God-given personalities, we are being cultivated by the Holy Spirit. And the more that we invest and grow in our faith, the more that the Holy Spirit can work through our hearts and minds... and the more He can help us exude a gentle and quiet spirit.
But the Helper, the Holy Spirit, whom the Father will send in my name, he will teach you all things and bring to your remembrance all that I have said to you. - John 14:26 esv