Today I am linking up with the lovely Susannah at
Simple Moments Stick
on what it means to be the Bride of Christ.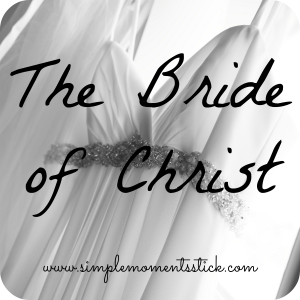 How beautiful,
The radiant bride,
Who waits for her groom
With His light in her eyes.
-Twila Paris,
How Beautiful
(played at our wedding)
When I think of myself as the Bride of Christ, I am taken back to the day that I became a bride here on earth. I had never felt more excited in my life. I was marrying the man of my dreams. Steve had chosen me out of all the women in the world to commit his life to, and would declare it to the world a few hours later when we took our vows. I felt loved. Cherished. Precious to my husband-to-be. Beloved by all of my friends and family who came to celebrate with us. Joyful at the prospect of becoming Steve's wife. And I felt beautiful.
The relationship that a bride and groom share is the closest relationship one can have on this earth. When I married Steve, I no longer belonged to myself - I became one-half of a pair, and the two of us became one. He vowed to protect me and to always put me first... even if it meant dying for me. He promised to always cherish me. Being Christ's bride is just like that - only better.
You have captivated my heart, my sister, my bride;


you have captivated my heart with one glance of your eyes.
-Song of Solomon 4:9 (esv)
As Christ's Bride, I have been given the privilege of sharing the most intimate relationship possible with the Lord. It is the closeness of a husband and wife here on earth, but far superior because that closeness is shared with one who not only loves me, but also
created
me and who
saved
me... going even so far as to
die
for me.
Because I am His Bride, I am invited to share an intimacy with my Creator that is more than just worship. It is bringing my needs to him, and knowing that He cares about each and every one of them. It is sharing the ins and outs of life with Him, and knowing that He is always with me throughout my day and throughout my life - no exceptions. It is knowing that to God, I am cherished and precious and beloved. Knowing that he has made me pure, and deems me beautiful
just the way I am
. Knowing that He thinks of me...and not only that, He is
captivated
by me
.
That's right, God - the creator of the universe - is captivated by me. And by you. Wow.
On her wedding day, a bride rejoices in the arrival of her bridegroom. She praises him and admires him. During her vows, she pledges all that she is to her husband-to-be and promises to love him for her entire life. And as Christ's Bride, I too should rejoice in this relationship that He has given me. I should pledge my utter devotion to the Lord and seek to please him all of my days. I don't always do this - frankly, sometimes I am terrible at it - but all He asks is that I try. He never runs out of patience with me and encourages me when I stumble. He is such a faithful friend.
While my husband does an amazing job of loving me, our marriage here on earth is not perfect. He is human and inevitably will fail me - and I will fail him. We are both sinners living in a sinful world. But it is in those moments that I am reminded that, while Steve is such a blessing to me, he shouldn't be my everything. He cannot fulfill all of my desires and wishes and dreams - only God can do that. My heavenly Husband. He will never fail me. He will never fail you.
How lucky we are to be the Bride of Christ.